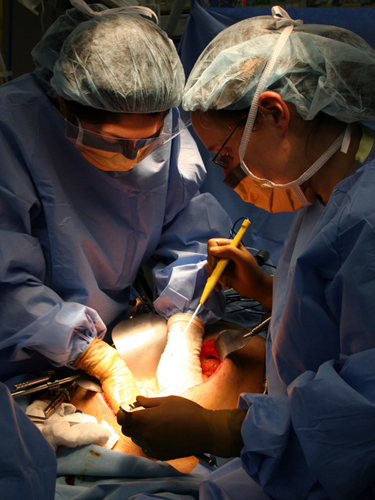 A General Surgery Resident's Perspective:  From an interview with a general surgery resident at Orlando Health in Orlando, FL
Part of an interview series entitled, "Specialty Spotlights", which asks medical students' most burning questions to physicians of every specialty.  See what doctors from every specialty had to say about why they chose their specialty and how to match in their residency.
How competitive is the general surgery match?
Moderately difficult. The average USMLE Step 1 score is usually in the high 220s, but higher for the sought after programs.
 What must a student do to match well in general surgery?
Your USMLE Step 1 score is the most important factor. Letters of Recommendation are very impotant and some should come from surgeons you have worked closely with. If you are interested in a research institution then research publications and presentations are very important.
What are residencies looking for in a general surgery applicant?
They are looking for someone who is Intelligent; they use Step 1 scores to establish this. They are also looking for someone who is passionate and hard-working; they can learn this through the activities you list and from the things mentioned in your letters of recommendation. It is important to be easy to work with, you can show this to programs during your interview.
What should students look for in a general surgery residency?
From a training standpoint, I think that surgical simulation experiences and structured education lectures/curriculum are something that every applicant has to be aware of. These experience are paramount in your surgical training. As you probably know, operative experience volume and variety is one of the most important factors (i.e. how many mastectomy vs whipple cases). You should know these statistics about each of your programs of interest.
Do you have any advice on the application, letters of recommendation, personal statements, or how to rank programs?
Letters of recommendation should be from faculty that can speak to your strengths in clinical decision-making and surgical skills. Personal statements should not be about how you always wanted to be a surgeon, but why you decided to be a surgeon. Rank programs that provide you with a high operative experience and well-defined simulation/education curriculum
What do you wish you knew before application/interview season?  
Be sure to prepare your  letters of recommendation early. Plan to interview at about 10-15 programs. If you plan to interview at highly competitive programs, you might need to plan on a bit more interviews.
Editor's Note: I 100% agree with preparing your LOR early.  Many of the attendings are extremely busy and 1 month notice may not be enough. Start asking at the end of your third year if you find individuals who could write great letters.
What other advice do you have for students applying to general surgery residency?
The best advice I ever received about deciding to do general surgery was "If you can't do anything but general surgery and be happy as a physician then you should do surgery. Otherwise do the other specialty". General surgery is a much more family-friendly specialty than it used to be. The egos and personalities that used to predominate the specialty are gone, surgeons are expected to be calm and mild-mannered today and exist well with their non-surgical counterparts. The best part of being a surgeon is being able to diagnose and treat the problems our patients face. When all other options fail and other specialties are uncertain what to do they will consult a surgeon to help, so you will be the go-to person where-ever you practice
Editor's Note: Applying for residency or preparing for your interviews? I highly recommend First Aid for the Match, The Successful Match: 200 Rules to Succeed in the Residency Match, and The Residency Interview: How To Make the Best Possible Impression .