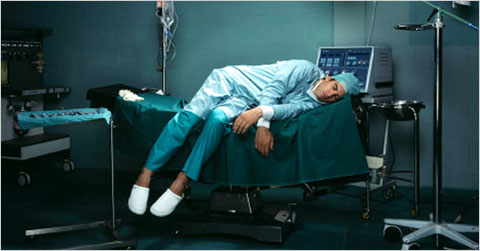 A Transitional Year Resident's Perspective: An interview with a transitional year resident from the Ann Arbor, Michigan.
Part of an interview series entitled, "Specialty Spotlights", which asks medical students' most burning questions to physicians of every specialty. See what doctors from every specialty had to say about why they chose their specialty and how to match in their residency.
What is a transitional year residency?

Transitional Year (TY) residencies might be the least well known residency option after medical school. The TY is a one year residency with a general focus which prepares recent graduates for advanced residencies. To understand where a TY fits in, you must understand that there are a number of residency programs that do not start specialty training until the 2nd year after medical school graduation (i.e. PGY2). These specialties include anesthesia, dermatology, neurology, physical medicine and rehabilitation, radiology, radiation oncology, and ophthalmology.
Each of these residencies begin their specialty training after a resident's intern year. Many of these residency programs will combine the intern year (PGY1) with the advanced specialty training. In these cases, the resident will remain in the same residency throughout their training and there is no need to complete a transition year residency. However, there are programs in each of these specialties that do not start training their residents until the second year after medical school (PGY2). These programs require their residents to complete an approved intern year prior to beginning specialty training. Approved intern years include a year of preliminary medicine, preliminary surgery, preliminary pediatrics, or a transitional year residency.
How is a transitional year residency different from other intern years?

The goals of training are basically the same among all intern years; we all learn hospital based patient care. Surgical interns take care of patients before and after surgery in the hospital, medicine interns take care of medical patients in the hospital, pediatric interns take care of kids in the hospital. A transitional year resident will take care of all of the above. The transitional year aims to be a broad hospital-based training. TY residents will spend various months working on medicine, surgical, OB, pediatric, outpatient, ED, ICU, and elective rotations. The great asset of a TY is that it provides more flexibility, allowing residents to focus on their interests. I am interested in research and was able to complete two months of intense research during my intern year: something no one from an internal medicine, surgery, or any other residency could say.
Are Transitional Year Residencies easy?

Not all TYs are made equally. It is a well known fact that there are some pretty cush TY residencies out there. However, there are also some very difficult TYs. To illustrate this fact, last year I interviewed at a number of TY residencies of varying difficulties. The easiest one had 4 required inpatient months, one outpatient month, one ED month, and 6 electives. Sign out during inpatient months was 3pm. When you were in the ICU you covered 2-3 patients, and you were NEVER on call the entire year. In contrast, I interviewed at a big hospital TY where there were two MICU months where you covered 15 patients, 6 required inpatient medicine months, 2 surgery months, a busy ED month, terrible call, and three 'electives' which were all time consuming. In general, however, the answer to this question is yes. Transitional years are FAR easier than prelim surg residencies and quite a bit easier than prelim medicine residencies as well.
Is the training as good at a Transitional Year Residency?

Absolutely, if you choose the right place. Many months this year I have more free time than I did in medical school. I have found that with the free time I am actually reading and studying a ton. I think that you MUST take call to learn how to be a doctor during your intern year. I am not sure how you can become a 'well trained' doctor if you never take call during your intern year. Being on call at night is when you really have to make decisions and you really learn a ton. You don't need 11 months of inpatient work to become a great radiologist or a great ophthalmologist. However, 6 solid months of medicine/surgery will certainly prepare you for your next level of training. Then you can spend the other half of the year becoming great at something else: research, pediatrics, surgery, golf, sleeping, etc etc
Describe a typical transitional year schedule?

Everyone must do: 1 month in the ICU, 1 month ED, 1 month outpatient, 2 months general medicine. I believe the rest is up to the residency program. Most programs end up giving 3-5 months of electives.
What are the potential downsides of a Transitional Year?

Not many! More free time, less stress, more fun…what's not to like. I guess one downside is that it closes some doors if you choose to switch specialties. For example, if you were doing a preliminary medicine year at an academic center and decided you wanted to do medicine instead of anesthesia, the switch would be easier. After completing a TY year you can only go into the specialties I listed above.
How competitive is the Transitional Year match?

It is actually very competitive. There are not many spots, and they are all coveted because they represent less work, more free time, more electives, and a much easier year. Also, imagine all the applicants trying to get spots: future radiologists, ophthalmologists, radiation oncologists, dermatologists. This is not a list of ordinary applicants. Matching into a TY is about as hard as matching into radiology or ophthalmology.
What are residencies looking for in a Transitional Year applicant?

I asked my TY program director this exact question and this was his response: "We know we will only have you for one year. However, during that year the TY class will take care of about 50% of all the patients in this hospital. So, it is in the hospitals best interest to have someone who 1- will work hard without being asked, and 2- will maintain the great patient care that we have at the hospital." I think those two things are exactly what all programs want. I think item #2 may touch on competency a little bit, but is mostly referring to your interpersonal skills.
What should students look for in a Transitional Year residency?

Whatever you want to look for in a TY year. That sounds cliche, but as I said above, not all TYs are made equally. Do you want a chill year at the risk of missing out on training? You can find that. Do you want to do pediatrics as well as medicine and surgery? You can find that.
Is there anything you wish you knew before application season?

I interviewed at a few places that had both TY years as well as preliminary medicine years but the curriculum was exactly the same. In other words, if you match into the preliminary medicine year, you still have the flexibility that the TY residents at the same program have. All of these programs will let you apply to both the TY and the prelim med year after your single interview. These are great programs to find because even though there is no difference at all in the curriculum, the preliminary medicine years are a bit easier to get into.
What other advice to you have for students applying to a Transitional Year?

Good luck, intern year is exhilarating, fantastically rewarding, difficult, and very very short. Enjoy it. Read The House of God
(amazon link), there is no better time than intern year. Also, watch the first season of Scrubs
where the characters are interns…it is incredibly realistic!
Editor's Note: Applying for residency or preparing for your interviews? I highly recommend First Aid for the Match, The Successful Match: 200 Rules to Succeed in the Residency Match, and The Residency Interview: How To Make the Best Possible Impression .