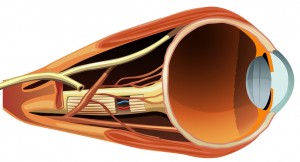 An Ophthalmology Resident's Perspective: From an interview with an ophthalmology resident at The Ohio State University
Part of an interview series entitled, "Specialty Spotlights", which asks medical students' most burning questions to physicians of every specialty.  See what doctors from every specialty had to say about why they chose their specialty and how to match in their residency.
What attracted you to Ophthalmology?
The first four things that come to my mind are: 1-The range of care, everything from medical management to surgical intervention. 2-The lifestyle. 3-Patient continuity. 4-Most ophthalmologists thoroughly enjoy going to work every day. 
Describe a Ophthalmologist's typical work day?
Office time or clinic time takes up some of the week (usually 3-4 days) and surgery takes up the rest of the week.  You can work an 8-5 day but some choose to see more patients and have longer hours.
What type of lifestyle can a Ophthalmologist expect?  
The workload is very manageable. Unlike other surgical sub-specialties, the schedule can be flexible and there is opportunity to have a good amount of time off.  Many weekends will be free but there is call and it can be very busy.
What is the potential salary of a Ophthalmologist?
Starting salary approx $170,000.  At about five years out the salary climbs to somewhere in the mid $200,000 range. A few fellowships can lead to more income (retina especially) but there are fellowships that lead to less income (pediatrics).
What is the job market like for Ophthalmology?
The market for ophthalmologists in urban areas is quite saturated. There are a few opportunities in desirable suburban areas, but many of these are full as well. Rural areas have openings and usually a higher base pay.
What are the potential downsides of Ophthalmology that students should be aware of?
Finding a job in a desirable location is not an easy task. You can say this about most specialties in medicine. Also, there is a high cost of practice operation. The overhead for an ophthalmologist is much higher than most specialties. We have lots of toys to play with, but they all cost money.
What else would you tell medical students who are considering Ophthalmology?
The early match often requires an early commitment to ophthalmology and it is to the applicant's benefit to submit their application as early as possible because some programs extend interviews on what appears to be a rolling basis. Good luck!
Editor's Note: For more help choosing a specialty in medicine, I highly recommend one or both of these two great books. I found both very useful.