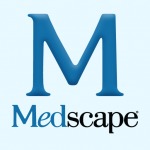 Medscape (now part of webmd.com) has produced the most widely used medical apps on the market.  The best part is, they are all free.  The main app links you to a database of review articles, disease definitions/physiology/pathology, and management guidelines.  It provides very quick access to important information: you could look up first line medications for community acquired pneumonia in the 15 seconds before you get pimped!
Their main site provides free app downloads for Apple, Blackberry, and Android users.  I have to admit, I use this ALL THE TIME right now during internship.  It is amazingly useful and user friendly
http://www.medscape.com/public/mobileapp
In order to download the app you will need to register with the website (here).  This will not only open the door to all their free apps, but also to all their online resources including free articles, text books, and reviews.  It will also allow you to view their annual physician compensation survey, one of the best ways to learn about how much physicians in each specialty earn.  See my dedicated post on this subject.