A Radiology Resident's Perspective: An interview with a radiology resident who has asked to remain completely anonymous for reasons you may soon understand.
Part of an interview series entitled, "Specialty Spotlights", which asks medical students' most burning questions to physicians of every specialty.  See what doctors from every specialty had to say about why they chose their specialty and how to match in their residency.
What attracted you to Radiology?
The money.  Choosing a specialty for its salary is considered an anathema in the medical community.  Because the discussion of salary is taboo, many medical students have taken to talking about a specialty's "lifestyle."  In reality, lifestyle and salary/work ratio are near synonymous.  With the notable exceptions of radiation oncology and dermatology, radiology is unquestionably at the top of the heap.  Factoring in vacation, hours, and salary the average private practice (PP) radiologist made nearly twice as much per hour as a general surgeon.  If you are going to sacrifice your youth to medical education then you should be lucratively rewarded.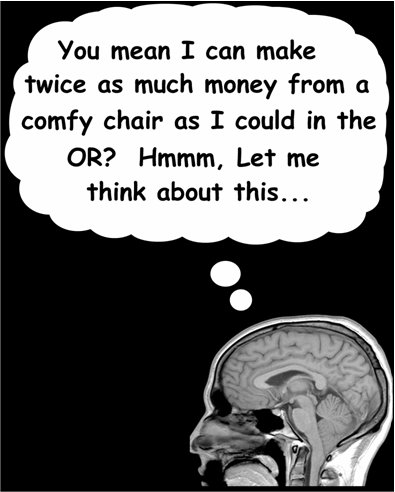 As I learned more about radiology, I realized that the specialty has all sorts of unique advantages.  Without a patient base, a radiologist is free to move about the country at will.  They can work from home or from anywhere in the world with teleradiology.  This mobility, free of the fetter of patient care, continues to drive radiologist's salaries higher. Radiologists tend to practice longer than any other specialty (except pathology) presumably due to the relaxed work environment.  However many radiologists retire early, which is silly because radiology differs little from retirement.
When I began my clinical rotations, I made a very important and life altering discovery.  Clinical medicine sucks.  I hated the whole experience.  I agonized at having to pick between such awful choices.  People kept telling me, "Just do what you love!"  I have different advice, "Don't do what you hate!"  Radiology is unique in that we have an integral role in patient care without having to be dragged into any of patient care's unpleasantries.  I am no longer screamed at by patients at 2 am because they think nexium is causing back pain.  I no longer have to hold a screaming child for a shot or calm down a sundowning gomer.  If you have the opportunity to save lives from a distance, I highly recommend it.
While the lifestyle is enviable, radiology is anything but easy.  Radiology is an intellectually rigorous specialty that encompasses the entire breadth of medicine.  The training requires extensive study of anatomy, pathology, physics, and treatment.  In emergencies, films must be read quickly and accurately.  Entire medical treatment plans are sometimes based on a radiologist's dictation.  Medical imaging continues to be at the forefront of modern medicine. Technology advances rapidly and a radiologist should expect to spend most of his or her career keeping up with current technology.
Describe a Radiologist's typical work day?
The typical radiologist comes to work and reads films in the dark for the majority of the day.  The work day in punctuated by phone calls, administrative responsibilities, and procedures (thoracenteses, liver biopsies, chest tubes, barium swallows, etc.).  Contrary to popular belief, these procedures are performed by general radiologists with no special "interventional" training.
What type of lifestyle can a Radiologist expect?  
Based on information on the ACR website, job postings, and anecdotal experience the average radiologist works about 50 hours a week.  Generally this is a 7am-4pm M-F with one short call until 9pm and 1-2 weekend days per month.  Work schedules are flexible.  It is also possible to rearrange the work schedule in many different ways with your partners.  Our work schedule isn't tied to patient management so we can divide it anyway we wish.  PP radiologists average 10 weeks of vacation per year, a figure that makes teachers envious.
What is the average salary of a Radiologist?
Based on the most recent Merrit Hawkins salary scan the average radiologist makes $417,000(1).  Andrew has compiled the entire source of physician salary data into one easily searchable article.  The Ultimate Guide to Physician Salaries. I highly recommend it.
What is the job market like for Radiology?
The job market is somewhat tight at the moment, though this is not unique to radiology.
What are the potential downsides of Radiology that students should be aware of?
My specialty is perfect.
What else would you tell medical students who are considering Radiology?
Don't do what you hate.  Kill the boards and standardized tests.  Keep your options open.
How competitive is the Radiology match?
Radiology is a very competitive specialty.  The average USMLE STEP 1 is 240(2).  26% of successfully graduates are inducted into AOA.  Most have some research.  Luckily, radiology is a surprising large specialty.  With nearly 1000 positions per year, there are plenty of spots to go around.  More residency positions are created every year.  For this reason, radiology is less competitive than dermatology, radiation oncology, plastic surgery, orthopedics, otolaryngology, or ophthalmology.  Clinicians actively try to dissuade medical students from going into radiology.
What are residencies looking for in a Radiology applicant?
Personality, 3rd year grades, board scores, research.  In that order.
What else would you tell medical students who are considering Radiology?
I wish I knew how fat I would get on pre-interview dinners.  Radiology interviews are great.  If I could do it again, I would.
What should students look for in a Radiology residency?
A balance of case volume and teaching

:  There are "work" residencies and "study" residencies.  "Work" residencies focus on learning to read films and dictate efficiently but can lack structured educational activities such as lectures and research.  If case volume is too high, you may be trained to be a transcriptionist instead of a radiologist.  On the other hand, at certain programs the residents are underworked and spend a large portion of their day studying and researching.  While these residencies sound cushy, it is embarrassing for residents to have to fight each other for cases.  One should look for a program where the residents do not have to compete with fellows for films/cases.

"View-box" teaching

:  The ideal situation is that the resident reads a film independently, checks out with the attending who teaches and answers questions, and then the resident dictates a report.  The suboptimal way is that the resident types a brief preliminary report which is later finalized by an attending with no face-to-face contact.  (Though the latter situation is appropriate for senior residents reading basic films.)

Modern Equipment

:  Radiology is a rapidly changing field.  Don't be behind in the technology before you even start!

Residents and Faculty:

  Go someplace where you will fit in and feel comfortable.

Facilities:

  Palace or dump?

Food:

  You are what you eat.

Fitness:

  For something to do with all your free time.
What other advice do you have for students applying to Radiology?
I met an old southern radiologist when I was a medical student.  He looked like a colonel in the Civil War.  Grizzled and wizened, he looked me straight in the eye and asked, "Son, what is it ya wanna do with yo life?"
"Radiology, sir."
He said, "Well that shows remawkable judgment and good sense."
You are choosing a career for LIFE.  Choose a specialty that you will enjoy when you're 64.  Most people have the same specialty longer than they are married.  Treat your specialty choice with the same careful consideration as you would with any major life decision.  Or don't, and go into ER.  What do I care?  Peace.
MYTH OR FACT:
Radiology is going to be Outsourced!

– A favorite

MYTH

of surgeons, foreign doctors, and the ignorant.  First and foremost, as long as radiology is considered to be medical practice, then it will require aUS medical license.  Credentialing is increasingly difficult and the notion that any hospital would credential an unknown inRanipet,India is absurd.  Second, general radiologists now perform far too many procedures to not have a physical presence at a hospital.  And third, there is no way to sue that physician in Ranipet.

Radiology doesn't have enough patient contact

  –

MYTH

.  Radiology has as much patient contact as you want.  At any time, I can put down my mocha latte and go talk to my patients.  I don't, but I could.  Radiology requires a one year internship that is designed to shatter any delusions medical students still have about patient contact.

Radiology has turf wars with other specialties

.  – This is

FACT

, but it is not unique to radiology.  The most notable radiology turf war is with cardiologists over cardiac imaging.  Clinicians reading their own films is grossly inappropriate.  Clinicians are 4 times more likely to order a film if they are reading it themselves3.  Beyond the unscrupulous avarice, the radiation from unnecessary studies causes direct harm to patients.

Radiologists sit in the dark all day

–

FACT

, but there is nothing stopping me from turning the lights on while I read films.
Editor's Note: For more help choosing a specialty in medicine, I highly recommend one these great books about choosing a specialty. If you have already decided on radiology, I recommend the First Aid for the Match to help you get ready for interviews.