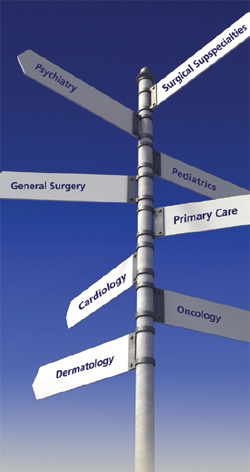 Welcome to my favorite section of ShortWhiteCoats.com! The Specialty Spotlights section provides information about each specialty in medicine from the primary source: the specialists themselves. I have interviewed numerous residents, fellows, and attending physicians with a list of questions that touches on the most pertinent information students need when making specialty decisions. Interviews have been conducted with doctors of every specialty from all over the country, see the list below for a small sample:
Each specialty page contains surveys completed by doctors that answer two sets of questions: Why should a person choose this specialty, and how to match in this specialty. In addition, I will soon post match results and data for each specialty. Click any specialty below to go to the specialty page.
Internal Medicine

Internal Medicine/Pediatrics (MedPeds)

Pathology

Pediatrics

Plastic Surgery

Alternatively, you can browse the information for all specialties at the same time.