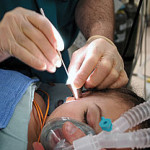 An Otolaryngology Resident's Perspective: From an interview with an ENT resident from the Midwest
Part of an interview series entitled, "Specialty Spotlights", which asks medical students' most burning questions to physicians of every specialty. See what doctors from every specialty had to say about why they chose their specialty and how to match in their residency.
How competitive is the Otolaryngology match?
The match is very competitive, recently it has been otolaryngology matched applicants with the highest average Step 1 score.
What must a student do to match well in Otolaryngology ?
Generally applicants need to have good test scores, and strong research and extracurricular features in their CV to be ensured an interview. However, the programs are small- and personality conflicts are hard to avoid, so the interview becomes crucial to actually matching. Programs have many qualified applicants and interviews are important for finding people who will be a good fit. Also, the field is small, a well-connected chairman seems to know all the ENT's in the country, so your letters of recommendation (specifically who wrote them) is vitally important to where you match.
What are residencies looking for in a Otolaryngology applicant?
Residencies are looking for someone who they get along with, someone they can trust to tell them the truth when staffing a consult in the middle of the night (not just what they want to hear). Big academic centers are looking for hard-working and successful researchers with a record of being able to get a project to publication as a student. Of course, any concerns that the resident will have professionalism or personal coping issues during training will flag them to fall way down the rank list. (Programs are generally 2-3 people per year/ 5 year program, losing one resident means losing 10% of the residency).
What should students look for in a Otolaryngology residency?
Students should pay attention to what graduates have been doing. If everyone is going into fellowship and becoming chairman somewhere- you can be sure that there is some unstated expectation that matched applicants will continue that trend. On the flip-side, if everybody goes into general practice and you want an academic job, there may not be mentors or support for you to get there. Think honestly about what you ultimately desire- then come up with a politically correct way to convey those career goals to discuss in interviews.
Another thing to look for is representation of all the subspecialties. It can be hard for academic programs to retain facial plastic surgeons. If you hope to treat cleft lips, make sure there is someone to learn it from.
Observe the general happiness of the residents. If you match, you will join that small cohort of people and spend more time with them than your spouse. Watch for anything that might be intolerable.
Do you have any advice on the application, letters of recommendation, personal statements, or how to rank programs?
It is a competitive match so seek a mentor who is well-connected in the field. They will help you with curating experiences to put on your CV and where to get letters of recommendation. This may mean looking outside your institution. Successful research is sought and will be discussed at all interviews. Letters of recommendation are almost all positive, so it becomes important WHO wrote the letter. If you have your heart set on a specific program, make sure your letter writers know the chair/program director. Be proactive without being annoying in the process. One of my co-residents was not offered an interview here, but she called and politely discussed her situation with the coordinator and program director. She got an interview and ended up matching. The corollary is that if you are rude to the secratary managing interviews, they can mention it to the committee and get you off the rank list. Be professional! Rank lists are deeply personal and involve many factors- but basically rank where you WANT to go.
What do you wish you knew before application/interview season?
I wish I knew how small the field is. Fortunately my letter writers were well known- to my benefit. In a competitive specialty like this one, small things matter- if you are professional and hard-working it will show.
Editor's Note: Applying for residency or preparing for your interviews? I highly recommend First Aid for the Match, The Successful Match: 200 Rules to Succeed in the Residency Match, and The Residency Interview: How To Make the Best Possible Impression .