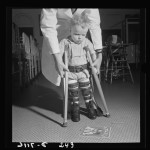 A Physical Medicine and Rehabilitation (PM&R) Resident's Perspective: From an interview with a PM&R resident from Ohio.
Part of an interview series entitled, "Specialty Spotlights", which asks medical students' most burning questions to physicians of every specialty. See what doctors from every specialty had to say about why they chose their specialty and how to match in their residency.
How competitive is the PM&R match?
Matching in PM&R is not as competitive as some fields, such as radiology, neurosurgery, dermatology, etc. However, it also used to be a relatively unknown specialty. Medical student exposure to PM&R has improved and the number of applicants seems to be steadily increasing, so it is becoming more competitive.
What must a student do to match well in PM&R?
A student looking to match well in PM&R should focus on the same things students would pursuing other specialties. Like any specialty, doing well on boards is important. Most programs have now instituted board score cut-offs for applicants, which are around 200-220 for USMLE Step 1. In general, students should perform well on their clinical clerkships throughout medical school, and a rotation is PM&R is preferred. Strong supportive letters of recommendation, including one from someone in PM&R, is preferred. At least some exposure to or participation in research is also a plus.
What are residencies looking for in a PM&R applicant?
PM&R residencies look for all the usual strengths in an applicant like good board scores and academic performance, good clinical performance on your clerkships, research exposure, etc. In my experience, PM&R residencies also tend to appreciate individuals with additional interests like sports and music. There are many in PM&R who followed non-traditional paths to medicine and may have had other careers first. Personality is also very important, as it takes pretty caring and compassionate people to be providers for individuals with disabilities as well as an ability to work with a multi-disciplinary team. In addition to a student's application, their interview day with a residency program will be very important
What should students look for in a PM&R residency?
If you are pursuing PM&R but not yet sure whether you want to do a fellowship, look for a well-rounded PM&R program with opportunities for exposure to the subspecialties. I looked for a program with a good balance of inpatient and outpatient clinical duties and wanted exposure to all the major areas: Sports/MSK, stroke, TBI (traumatic brain injury), SCI (spinal cord injury), amputation and pediatric rehab. I also looked for programs that had an ultrasound curriculum, as well as plenty of exposure to procedures including electrodiagnosis (EMG), botox, interventional spine and baclofen pumps. Beyond curriculum, the deciding factor in residency programs for me was finding a good "fit." I paid close attention to interactions with residents, students, fellows and faculty on interview days to try and get a feel for whether this was a place I would like to train or not.
Do you have any advice on the application, letters of recommendation, personal statements, or how to rank programs?
Like any other specialty, having a well-rounded application is important. Although board scores are important and used as a screening tool, residencies want to see much more than that. Do at least one rotation in PM&R, even if you have to arrange an away rotation. Also try and have at least one Letter of Recommendation from someone in PM&R. I looked for well-rounded programs to rank, but ultimately my rank list came down to finding a good fit on my interview day. Pick a program where you can see yourself being both well trained and happy for 4 years
What do you wish you knew before application/interview season?
Although I did a lot of practice interview questions before my interviews, one question I didn't have a great answer for was "So what is a Physiatrist?" I struggled with this question because the scope of our field is pretty broad, but having a decent answer will help guide your personal statement and save you the embarrassment if asked on the interview trail
What other advice do you have for students applying for PM&R residency?
People like to say "plenty of money and relaxation," and although the lifestyle is good there are long days and hard days. We take care of very sick patients, many of which have experienced something catastrophic, and as their physiatrist we can be their greatest advocate or on some days just their cheerleader. In PM&R, you have to be willing to wear many different hats. Also, make sure you write "PM&R" NOT "PMNR," and know how to pronounce "Physiatrist."
Editor's Note: Applying for residency or preparing for your interviews? I highly recommend First Aid for the Match, The Successful Match: 200 Rules to Succeed in the Residency Match, and The Residency Interview: How To Make the Best Possible Impression .