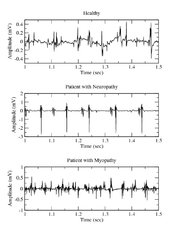 A Physical Medicine and Rehabilitation PM&R) Resident's Perspective: From an interview with a PM&R resident from Ohio..
Part of an interview series entitled, "Specialty Spotlights", which asks medical students' most burning questions to physicians of every specialty. See what doctors from every specialty had to say about why they chose their specialty and how to match in their residency.
What attracted you to physical medicine and rehabilitation (PM&R)?
I initially explored PM&R because I always had an interest in neurophysiology and neuroanatomy, and I knew that physiatrists took care of patients with stroke, traumatic brain injury, spinal cord injury, and other disorders of the nervous and musculoskeletal systems. During my first rotation in PM&R was when I learned that physiatrists primary focus in helping their patients is by improving function. This focus on function is ultimately what attracted me to PM&R, because enabling patients with different abilities to function can substantially affect quality of life. Another aspect of PM&R that attracted me to the specialty was working with a multidisciplinary team to provide care.
Describe a physiatrist's typical work day?
The workday of a typical physiatrist is quite regular, usually from about 8am to 5pm, but this can vary somewhat depending on your type of practice. There are many physiatrists who only do outpatient clinic, while others do both inpatient and outpatient.
What type of lifestyle can a physiatrist expect?
Lifestyle of a physiatrist can be somewhat variable depending on practice setup and location, but overall is considered to be well balanced relative to other specialties in medicine. We also have a high job satisfaction. PM&R is a very family friendly field, with plenty of free time and family time. Most physiatrists do not work nights, but there is some call coverage for those with inpatient duties. On average, call is usually about one week and one weekend per month, but can be less frequent depending on size of the department. Primary (first) call at large hospitals is most often covered by residents and fellows, and the attending is only called when needed. Call does usually include rounding on the weekend, which is usually brief.
What is the potential salary of a physiatrist?
The average salary of a physiatrist is around $180,000-190,000.
What is the job market like for PM&R?
The job market for physiatrists is excellent both immediately following completion of residency as well as after advanced fellowship training
What can you tell us about PM&R subspecialties?
Another advantage to training in PM&R is that there are many options for subspecialty training. PM&R residents can pursue fellowship in many areas including the following: Interventional Pain/Spine, Sports Medicine, Cancer Rehabilitation, Stroke Rehabilitation, Traumatic Brain Injury, Spinal Cord Injury, Pediatric Rehabilitation Medicine, Neuromuscular Medicine/EMG, Informatics and Research. Most of the clinical fellowships are 1 year of additional training, and Pediatric Rehabilitation Medicine can be 1 year for those who completed a combined residency and 2 years for those who completed a general PM&R residency
What are the potential downsides of PM&R that students should be aware of?
Although I did not consider salary when making my career decisions, it is an important consideration for students to think about as many of us have student loan debt and families to provide for. One potential downside of PM&R that students should be aware of is reimbursement changes for procedures, particularly electrodiagnostic testing. The salary I mentioned earlier is at or just below the average for all physicians.
What else would you tell medical students who are considering PM&R?
I highly recommend considering a career in PM&R. It is a fairly small field of medicine but it is growing and evolving, with so many exciting possibilities particularly with advances in technology. Being a physiatrist is incredibly rewarding. It is difficult to describe what it feels like when you see someone who had a stroke, spinal cord injury, or amputation walk again, but it's pretty awesome to be a part of the team making that happen
Editor's Note: For more help choosing a specialty in medicine, I highly recommend one or both of these two great books. I found both very useful.