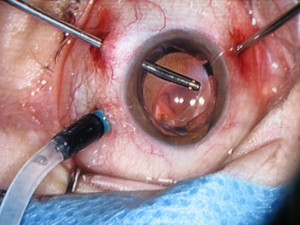 An Ophthalmology Resident's Perspective:
From an interview with an ophthalmology resident at Johns Hopkins University
Part of an interview series entitled, "Specialty Spotlights", which asks medical students' most burning questions to physicians of every specialty.  See what doctors from every specialty had to say about why they chose their specialty and how to match in their residency.
How competitive is the ophthalmology match?
Ophthalmology is pretty competitive. It is not as bad as plastic surgery, but it is one of the most difficult matches right now.
What are residencies looking for in a ophthalmology applicant?
The top programs are all academic institutions, so a good research foundation definitely helps. The field is small and well informed, they like to see early and/or definite commitment to the field.
What do you wish you knew before application/interview season?  
I did not know about the postings on studentdoctor network. If you go online to the studentdoctor network website during interview season you will see that there is a place where people post interview dates and times as soon as they get them.  There is usually also a calendar with all the interview dates listed.  If you can not find a calendar, make your own.  Often you will get interview invites and if you respond in more than a couple hours there are no more interview spots left. Check email every 3 minutes, you just have to do it. Respond to interview invitations within minutes of receiving email.
EDITOR'S NOTE:  I cannot agree more with this advice.  Click here to go to the main SDN ophthalmology page. Click here to see the link to the ophthalmology interview thread from 2011.
What should students look for in a ophthalmology residency?
You will have to decide for yourself what options you prefer, but here are some of the most important questions when evaluating a program because they represent major differences and distinctions: location, small vs. large program (i.e. 3 residents per year vs. 8 per year), front loaded work and call vs. evenly distributed, home vs. in-house call, research faculty/area/time devotion/expectations, strength and notoriety of the faculty, training style (autonomy vs. faculty guidance), facility and equipment (new slit lamps? teaching scopes? etc), is there a VA, is the VA hours away or in another state, is the VA clinic resident run.  In my opinion, a strong resident run VA clinic is a must.
What other advice do you have for students applying to ophthalmology residency?
It's early match so somehow you need to try out the rotation and decide early.  Once make a decision, you need to starting getting your application packet together early. Remember, they want to know that you are committed, this is hard to do because your application is due near the beginning of your 4th year.
Editor's Note: Applying for residency or preparing for your interviews? I highly recommend First Aid for the Match, The Successful Match: 200 Rules to Succeed in the Residency Match, and The Residency Interview: How To Make the Best Possible Impression .