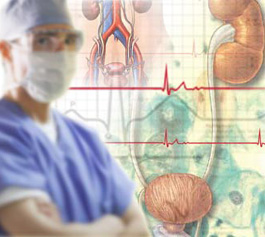 A Urology Resident's Perspective: From an interview with a urology resident The Ohio State University Medical Center  in Columbus, Ohio.
Part of an interview series entitled, "Specialty Spotlights", which asks medical students' most burning questions to physicians of every specialty.  See what doctors from every specialty had to say about why they chose their specialty and how to match in their residency.
What attracted you to Urology?
I knew that I was attracted to surgery, but I was not interested in living a "surgeon lifestyle."  Many doctors, including surgeons in other specialties, recommended during medical school that I check out urology.  Urology was not on my differential and the thought of dedicating my life to the urinary tract did not seem appealing.  I was convinced to do a 2 week surgery subspecialy rotation in urology.  I was amazed at the breadth of surgical procedures they performed.  I also enjoyed all the different equipment (or toys) that they utilized.  There was also a lot of variety in clinic between medicine and office procedures.  I appreciated the fact that urologists worked hard, but most days were still done at a reasonable hour.   This allowed the urologists to maintain a healthy balance between work and life outside the hospital.  Probably, the deciding factor was how genuinely happy the urologists were and when asked, all of them stated they would choose urology if they had to do it all over again.
Describe a Urologist's typical work day?
The work week is usually split fairly evenly between clinic and OR.  I would say that most urologists have around 2 OR days and 3 clinic days, although many clinic days may have time dedicated to office procedures.  Obviously, the clinic days are going to be more routine office hours.  OR days vary a lot depending on what type of cases you perform.  Most procedures are outpatient and relatively short.  If you plan to do a lot of cancer surgery then you will do some longer cases and therefore will have some evenings spent operating.
What type of lifestyle can a Urologist expect?  
It is still a surgery field which means you still have early rounds due to early OR cases.  I feel that residency hours are comparable to other surgery fields, with the main difference maybe being home call for urology versus in-house call for many other fields.  I feel there is a light at the end of the tunnel though.  In practice, most days will have office-hours type of schedule.  A lot depends on what types of cases you decide to do and how the call is split up.  In general, there are less emergent surgeries in urology than most other fields.  If you are at a busy hospital there still may be ER consults and inpatient catheter issues that will need to be addressed in the middle of the night.  I think that most nights, even on call, you can expect to get a decent amount of sleep.  Relative to some surgery fields, you should have adequate time to spend with family and doing hobbies during the evenings and weekends.
What is the average salary of a Urologist?
Overall, probably between $200,000 and $600,000 with starting salary between $200,000 to $400,000.  A lot has to do with private practice versus academics and how saturated the specific market is.  I think most academic urologists will make between $200,000 to $300,000, but with certain bonus/incentive packages may eventually make more.  If you are starting off in a bigger practice in a more competetive location, you will likely start off closer to the $200,000 range, but with time can build up your practice and eventually be making greater then $500,000.  There has also been a trend towards hospital employed urologists.  These hospitals will often provide higher starting salaries (e.g. closer to $400,000), but may have more of a ceiling on how much you can earn from there.
What is the job market like for Urology?
Most of the big, destination type cities are relatively saturated.  Having said that, you can likely get a job just about anywhere but you may just have to take a big pay cut.  There are many relatively rural hospitals that are desperate for urologists and will pay good money to lure you out there.  I would say in general that the job market is good, but you may need to have some flexibility on where you want to end up practicing.
What can you tell us about Urology Sub-specialties?
Urology fellowships are 1-2 years.  As opposed to the trend in many other surgical fields, you definitely do not need a fellowship to get a good job.  Most residents will only do a fellowship if they want to do academics or if there is a specialty field that they feel they did not get adequate exposure to during residency and they desire extra training in.  In some big cities, fellowships may give you a marketable skill, but most fellowship trained urologists will still practice general urology with maybe a slant towards that specialty.  If you really just want to do one specialized field and not other parts of urology, then academics is likely your best option.
What are the potential downsides of Urology that students should be aware of?
Urology is a tough surgical residency.  With any type of surgery comes complications and stress.  Although call may be better than some surgery fields, there are still going to be emergent cases or patients crashing in the middle of the night and on weekends.  You are dedicating yourself to the urinary tract which means a lot of bloody urine and prostate exams.  Everytime you tell people what field you're in you have to answer the question, "why urology?"
What else would you tell medical students who are considering Urology?
If you want variety and enjoy being busy then this is a good field to consider. Compensation is definitely on the higher end which is a bonus!
Editor's Note: For more help choosing a specialty in medicine, I highly recommend one or both of these two great books. I found both very useful.